Goodreads is the Facebook of Readers! It's a great place for readers to share their love of books and for Authors to get their books in front of new readers, engage with readers, and grow their platform. Owned by Amazon, Goodreads includes direct Kindle links and other great tools to help you grow your fanbase. 
This short course will help you familiarize yourself with Goodreads so you know how to use it and show you exactly how to set up your primary and Author Account.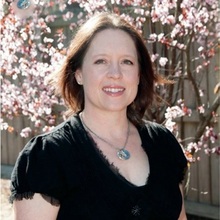 Author Coach and Publisher
Alexa Bigwarfe
Alexa Bigwarfe is a coach to writers, self-published author, blogger, and freelance writer. Alexa's micro publishing company, Kat Biggie Press, has edited, designed, and published 7 of her own books and several books by other authors. In addition to her self-published works, Alexa has has been published in four anthologies; The Mother of All Meltdowns, The HerStories Project, The Clash of the Couples,and Mothering Through the Darkness. Alexa knows what it takes to build a writing career in the middle of real life as she built hers amid screaming children, dirty dishes and piles of laundry. As a freelance writer, she has had more than 30 articles published in regional parenting magazines throughout the U.S. and Canada. She is passionate about helping writers build sustainable businesses with the strokes of their keyboard. She provides self-publishing, course, and author and freelance writer support at Write|Publish|Sell.
2

Let's get familiar with Goodreads!

Implement - Goodreads as a READER

Tips for Success with GoodReads

How to make changes and correct errors on GoodReads

3

Setting Up Your Author Account - part one (for the already published author with video tutorial)

Setting up your Goodreads Author Account (part 2 - for the unpublished Author or when book is on pre-order)

Groups, forums, and discussions, oh my!

4

Setting up a Giveaway on Goodreads and why they are awesome tools for marketing

Setting up a giveaway (with video)
Don't' wait any longer to use this amazing tool for authors!
Liquid error: internal